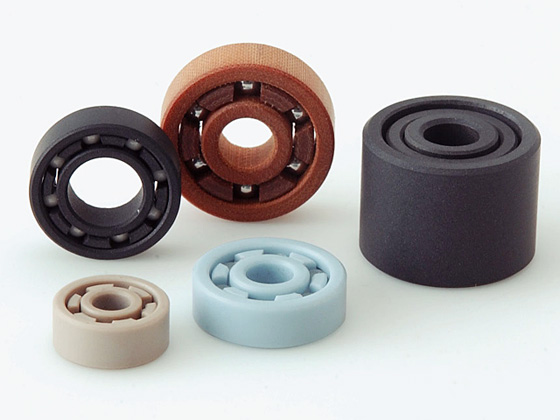 These are our miniature size bearings.
Small diameter, light weight, and thinness is in demand in today's world.
Bearings with an outer diameter of less than 9 mm and small-sized bearings with an outer diameter of more than 9 mm and an inner diameter of less than 10 mm are collectively referred to as miniature and small-sized ball bearings (we manufacture bearings with an outer diameter of more than 9 mm). Miniature bearings consist of an outer ring, inner ring, retainer, and balls, just like standard bearings.

The demand for miniature bearings is increasing and they are playing an increasingly important role in the development of information equipment and for the purpose of miniaturization and weight reduction.
For example, they are used in familiar places such as fishing reels, mini four wheel drives, hard disks and other driving parts of PCs, as well as in miniaturization of medical instruments and measuring instruments.
Although they are rarely seen, miniature bearings are an integral part of our daily lives. In the environments where miniature bearings are used, rotational accuracy is often more important than strength issues since the load is light.
We mainly use plastic as a bearing material. Plastic bearings have various features that are different from metal bearings. They can be used without lubrication or oiling, and they do not rust or corrode when exposed to water or chemicals.
Plastic bearings are used in special environments where metal bearings cannot be applied. However, no single plastic material is suitable for all special environments, so we recommend different materials depending on the environment they operate in.
In addition, since it is manufactured by machining, it can be made into any shape.
If you have any problems with the bearings, please feel free to contact us.

Major Sizes

Major Sizes(mm)
Ref.
No.
d
D
B
3
10
4
623
4
11
4
694
12
4
604
13
5
624
16
5
634
5
11
4or5

(※1)

685
13
4
695
14
5
605
16
5
625
19
6
635
6
15
5
696
17
6
606
19
6
626
22
7
636

Major Sizes(mm)
Ref.
No.
d
D
B
7
17
5
697
19
6
607
22
7
627
26
9
637
8
16
4or5
688
19
6
698
22
7
608
24
8
628
28
9
638
9
17
4or5
689
20
6
699
24
7
609
26
8
629
30
10
639
Flange shape is also available.
※1:The dimensions are slightly different from those of normal bearings.
   The material is also limited.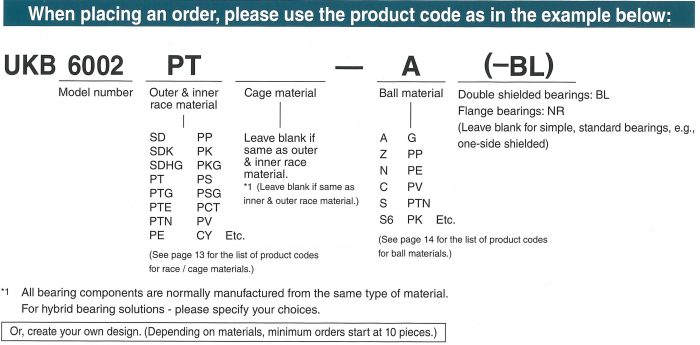 The material used to make plastic bearings depends on the intended use of the bearing.
For more information on materials, please refer to the following page.
Plastic bearings are used in a wide variety of applications due to their superior characteristics not found in metal bearings.
They are used in a variety of applications.