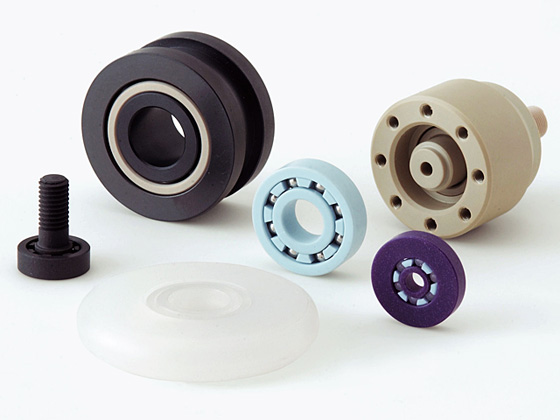 Our plastic bearings have an additional advantage.
This is our ability to handle special shapes and custom-made products.
Plastic bearings are generally manufactured by molding.
However, this method can only produce bearings in a specific material, size, and shape for each mold.
If you want to change the size or shape, you need a new mold, which naturally costs more.
However, we manufacture bearings not by "molding" but by "cutting".
Therefore, we can manufacture any shape with a wide variety of materials if requested by the customer.
For example, when a plastic bearing is used as a guide in a plating line, grooves can be cut into the outer diameter to match the workpiece.
We can also manufacture grooves in various shapes, such as R grooves, flat grooves, and V grooves, depending on the workpiece.
In addition, the number of parts can be reduced by manufacturing the inner ring in the form of a screw.

The material used to make plastic bearings depends on the intended use of the bearing.

Plastic bearings are used in a wide variety of applications due to their superior characteristics not found in metal bearings.
They are used in a variety of applications.